Nov 20, 2019 — OneVision Consulting, an ERP and EPM consulting firm focused on "enabling clients to achieve their vision" proudly announces that their Founder and Chairman, Patrick Thompson has been named to the 2019 CIO Hall of Fame from IDG's CIO media brand. Patrick currently holds the CIO role for Albemarle, a global specialty chemicals company.
CIO's Hall of Fame celebrates men and women who have portrayed outstanding achievement in information technology management. It honors those whose work has advanced the CIO role through IT and business alignment. Along with their significant career accomplishments in the field of IT, Hall of Fame members have made a meaningful impact in one or more organizations through the execution of a technology vision.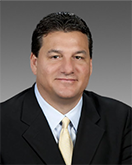 "The OneVision partners and team are extremely proud of Patrick for this well-deserved recognition. Patrick's leadership as a "Strategic Advisor" has fostered our growth and ability to provide clients with an excellent experience." said Clint Greeson a OneVision partner. "Our entire team is excited for Patrick and congratulate him on this achievement."
Thompson founded OneVision in 2015 with several other partners who possessed the same passion for technology and customer success. As a CIO for Albemarle and other Fortune 1000 organizations, his goal is to execute the company's IT strategy that supports the business vision by ensuring the correct systems and operations are in place. Prior to joining Albemarle, Thompson's 30-year career included roles at Accenture, Turner Industries, Shaw Group and Amedisys.
About OneVision

OneVision was founded by 6 Partners with over 150 years of business & technology consulting experience. The partners started the company to "enable clients to achieve their vision" through strategically & efficiently implementing ERP & EPM systems to maximize revenue, gross margins, cost synergies and improve net income and shareholder value.