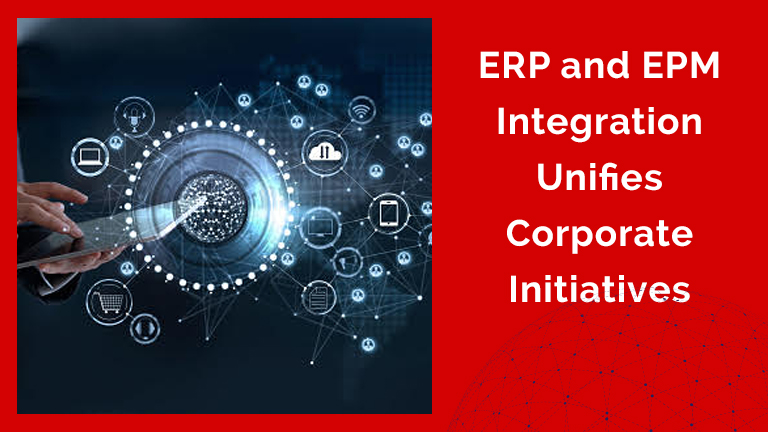 ERP solutions have become a core system for many businesses we serve. Those in the Construction, Engineering and Fabrication industry, or other companies implementing an ERP with a strong emphasis on project management recognize improvements of operations, customer experience, and human capital optimization for completing work. At the same time, these efficiencies may leave a gap in your organizational management, because it is not necessarily designed to make the company as a whole efficient. In many examples, ERP is focused on managing the resources of individual teams and projects. To bridge this area, a larger scope should be considered that provides visibility at an organizational level. Enterprise Performance Management (EPM) provides financial, forecasting and analysis tools to coordinate business efforts effectively, which is why ERP and EPM integration has hit the mark in many modern enterprises.
ERP vs EPM
Think of it this way.  ERP helps run your day to day operations, while EPM integration will help manage the business with actionable insights to plan for the future. With EPM integration, you can link your operational data to company performance, revenue and cost indicators. Bringing together these key metrics enables both operations leaders and financial executives to hone in on efficiencies and results.  Imagine easily understanding where your largest cost sinks and best ROIs are located by aligning project human capital and material resources, to the P&L and budgeting forecast.
This type of data correlation gives organizations a better sense of where to invest in growing the company.  They can choose between chasing the high dollar return and providing more coverage in an area where they're not quite serving the market yet.
A unified approach to agile business management
As mentioned, ERP and EPM integration gives the right perspective to various stakeholders in the business.  Operational and executive management often require different sets of data points and visibility to perform their roles effectively.  In the end, this means providing the right view of data to make informed decisions about an ever changing landscape.  Consider how this integration can streamline the following:
Operational Performance – Project and financial performance data is optimized to draw a picture of the business' current and future state. Organizations can identify efficiency gains and market opportunities.
Financial Performance – With higher confidence in data integrity, the business can more easily adapt to regulations. This keeps stakeholders informed with accurate financial information.
Human Capital Performance – The alignment of operations and financial metrics offer information needed to mitigate change, while aligning Human Capital to the most important strategies to execute a higher level of performance.
Customer Performance – bringing visibility to sales performance and a 360 view of customer performance provides insights to focus on the right customers to optimize profitability and capture marketshare.
ERP + EPM = Strategy to Execution and with this added efficiency and visibility, ERP becomes even more effective, providing your business with another method of staying ahead of the competition. After all, if you can't increase your market share today, you can work on increasing your efficiency until you have the surplus resources you need to initiate your next growth phase.  EPM enables ERP platforms with the right analytics needed to do this while minimizing complexity.
ERP and EPM integration is a smart strategy for enterprises looking to take their company to the next level.  Combining these powerful platforms to connect key corporate data and business units can evolve your position in the market.  Remember, it's not only about the best technology, but how they are used collectively to "Plan, Build and Run" the business to achieve your organizational vision.
At OneVision we are committed to helping you achieve your Mission & Vision!