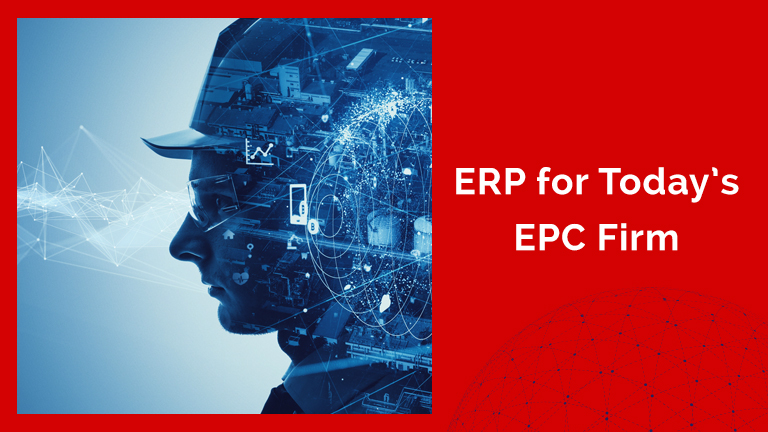 Today's EPC (Engineering, Procurement and Construction) firms are extremely complex.  They are fast moving with lingering deadlines, dozens of subcontractors, regulatory constraints and change control at every turn.  They must maintain control of quality, budget and timelines at all times to avoid project failure and potentially put the firm at risk.   With so much at stake, the selection of an ERP platform can set the stage for long term success or headaches.
When choosing a platform that has so much riding on it, try to consider several vantage points.  Think holistically about the firm, departments, vendors and stakeholders. Let's look at 4 key personas that should drive the selection process to ensure adequate business and technology alignment.  These common, yet critical roles in an EPC firm, hold powerful perspectives that set the tone for the future.
Executive Suite:
Let's begin at the top of the stack.  The executive suite obviously has influence and specific demands of any vital system used by an EPC firm.  In order to set a vision and strategy, they must have insight of both the market and their own operations.  Ideally, a system will help them gain knowledge and evaluate company performance with sophisticated tools such as:
Opportunity Management
Project Accounting and Manufacturing
Compliance Dashboards
Firm Profitability and Financials
The lack of any of these key resources will stall executive decision making or render them inaccurate.  Furthermore, digital transformation strategies rely on integrated and timely use of project and company data. Be sure to evaluate these capabilities to incorporate the executive requirements for your ERP system.
Operations:
At the heart of any EPC firm, operations are where the rubber meets the road.  Project fiscal and quality responsibilities are tough jobs, and the systems that support Operations must be extremely robust, accurate and reliable.  The ERP system that supports operations must have similar insight as the executive level for visibility and quick decision making.  Additionally, operations will require a unique level of detail, and adequate tools to manage complex, cost driven and fast-moving projects such as:
Project Costs and Forecasting
Resource Management
Risk Analysis
Collaboration and Communication Tools
Automation Tools
A smooth-running operation is imperative, so be sure to dig into the details.  Understand the level of data capture, visibility and automation provided to build efficiencies.  The devil is in the details, so ask vendors for in depth demonstrations for a complete appreciation for the platform.
IT and Cybersecurity:
Modern ERP system selection must consider the heavy role of IT and cybersecurity.  Governmental standards like CMMC are forcing EPC firms to tighten the belt on security and data management practices.  Software as a Service (SaaS) and Cloud based systems should be scrutinized for their ability to comply, while providing the necessary features needed to run the business.  For more details regarding a Cloud based ERP selection, check out our blog that highlights options from a technical perspective.  At a high-level, here are the most important criteria to consider on the technology front.
Government and Security Compliance Standards
Cloud vs On-Premise Solutions
3rd Party System Integration Requirements
ERP Customization Options
Productivity Features (i.e. Collaboration and Mobile access)
Remember, technology features are still heavily reliant on the team that implements and supports them.  Take a look at provider qualifications and references to ensure the experience and expertise needed to ensure success.
Human Resources and Human Capital Management:
In a climate where top talent for an EPC firm is a key differentiator, the acquisition, development and retention of the workforce is essential.   While HR plays a role to mitigate risks around employee management and compliance, the true value they provide is identifying and fostering the right talent.  Consider a highly capable HR component in your ERP selection to ensure the right levels of integration, features and benefits.  Be sure to evaluate the following areas that align with the growth and culture of the firm.
Recruiting and On-Boarding Management
Workforce Development and Training
Performance and Compensation Management
Employee Engagement and Feedback Tools
The HR component can complement every other area of the ERP system with obvious benefits to the firm's culture.  These synergies will have a huge impact day 1 on the organization so evaluate this area carefully.
Choosing the right systems for your business requires several viewpoints.  Take time to fully understand your EPC departments along with process requirements, timeline, budget and "must have" features.  Organizations often lean toward the requirements of one or two general areas instead of evaluating the holistic needs of the firm.  Mapping out these criteria and aligning with company goals and objectives will allow for the best possible ERP choice.