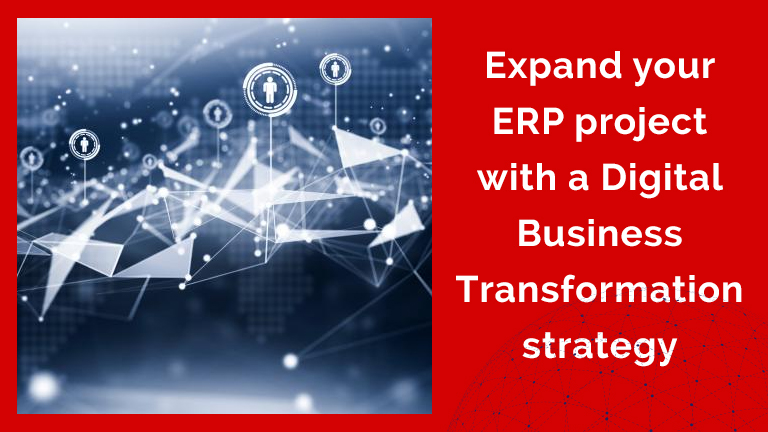 Today's consumer engages with brands and commerce through digital interfaces at a staggering rate. That means it is in the interest of any business, looking to remain relevant, to take digital business transformation seriously. Unfortunately, for all the buzz this term has generated, it is still unclear as to what the digital business transformation represents. Is it the cloud? AI? Web 2.0? Digital transformation can leverage all of these things, but its purpose is so much more.
When implementing an (ERP) Enterprise Resource Planning platform, companies should consider the digital customer experience strategy. Digital business transformation starts and stops with how businesses interact and engage with their customers in a digital world. The pre-digital relationship with the customer has been trumped by interfaces and experiences that provide speed, data and tangible products or services on demand. The concept represents a shift in expectations that is unprecedented, yet becoming a standard in today's hyperconnected world. So, what can a business do to keep pace?
The first step in understanding how to change your company's digital footprint, begins with a vision around customer engagement. Imagine how to simplify your customer journey and make their experiences with your company memorable. Ask these questions:
• How do we make our vision our customers vision?
• What impression do we want to create with our customers?
• What business processes should change to accommodate innovative technologies?
• Is our culture ready to embrace a digital transformation?
• What risks are involved in this process?
Don't underestimate these provocative questions. It's not as simple as changing policy or adding a snazzy looking interface in front of your ERP. When you have multiple locations, deep seated organizational habits and employees in a variety of customer-facing roles, the transformation is challenging. Instead, work to change consumer expectations by mapping out their interactions with your business and identify areas that will improve each step. Implement ERP processes that reinforce these improvements with internal training to get employees on board.
Furthermore, the digital phenomenon crosses every modern industry we can think of. Construction, Oil and Gas, Manufacturing, Energy, and Logistics and many more industries have found innovative ways to improve the customer experience. In the Fabrication industry giving your clients access to shipments and deliveries online can create marketshare increases and help with your customers supply chain planning. The positive impact this can have on their consumer is substantial, hence producing higher ROI for the business.
Of course, a digital transformation will rely on a host of technologies to meet customer demand. With that in mind, look for platforms that seamlessly integrate customer facing and backend processes. ERP systems integrated with CRM and Unified Communication services provides a sense of unity to the customer. Think Amazon. Their ability to offer an almost ubiquitous ecosystem for customers to research, purchase, track and engage is truly remarkable.
Remember, moving your business to a truly digital ready system means more than just technology upgrades. In fact, a mere focus on the technology alone can over complicate things for customers and end up backfiring on your efforts. Instead, take a step back from technology and rethink your organization's ability to inspire and simplify things for customers. Customers want to work with businesses that make their lives easier and provide a valuable service or product. Focus on that as you evaluate your digital transformation "readiness" within your ERP implementation and you'll be headed in the right direction. A solid ERP foundation is critical to Digital Transformation.