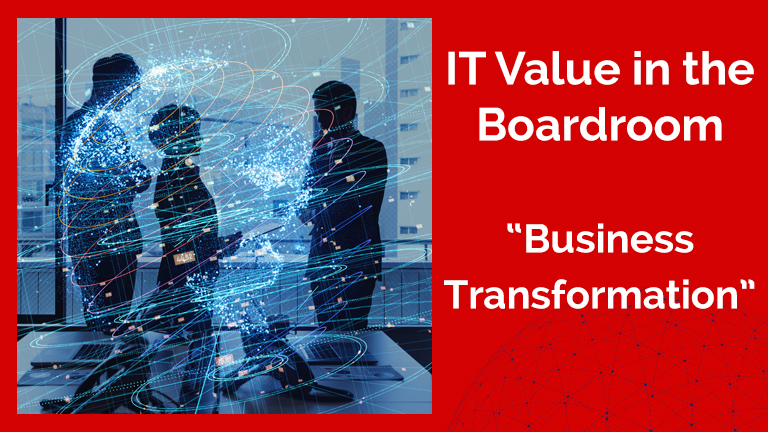 The world of business is an exciting journey.  From the onset of a new-found idea, inspiring entrepreneurs build out a model for success.  The company grows and experiences unprecedented success establishing a recognizable brand to be reckoned with.  Fast forward to current day, and we find the very ingredients that enabled the success of these companies, is now challenged.  A new era of competitors and buyers has shifted demand and expectations forcing the business to rethink their model as their journey continues.
Business Transformation is a real phenomenon necessitated by the ever-changing landscape of industry, technology and market demand.  In short, companies must recast a strategy for success by rethinking its current model of "People, Process, Technology".   But companies are forced to answer the question, "How do I get there from here?"
As we finalize our discussion of "IT Value in the boardroom", we will take a holistic view at the underlying business challenge.  Top business executives will question the fundamental business model and realize a major pivot will demand change at every layer of the organization. At a high-level, Sales, Operations and Finance units will work together to change and deliver a product or service that meets or exceeds a need in the market.  In reality, the complexities involved are enormous and require exceptional leadership to build a unified front.
People, Process enabled by Technology
In todays' business climate, a large contributor to recreating the People, Process, Technology model is the technology leadership team. The reliance on technology in the workplace will forge IT discussions early as the business reinvents itself.  This is mainly because the core change in the business will center around people and process technology enablement.  How will technology and data empower organizations to compete going forward?
People Enablement with Data
Digital transformation initiatives invite positive changes to business and allow speed and agility unlike anything we've seen.  People are given powerful tools to leverage and work with, producing an incredible ramp in data.  ERP, Analytics and customer facing systems work in an ecosystem with insights not possible in previous years.  These data insights are vital to business transformation.
IT moves the needle by placing a keen eye on data management and its presentation to the business.  While there is no shortage of data to be collected, the meaningful use of it can be tricky.  Successful business transformation aligns to an IT Strategy with forethought of how data will be used to make key decisions.  Take for example, a major engineering firm we've worked with.  The business had become trapped with too many disparate systems, little integration and a lack of strategic insight.  Our team was able to consolidate ERP systems, and synergize data using Enterprise Performance Management practices.  The new visibility and insight had a profound impact on the company's ability to grow and establish themselves as a market leader.
"Making data available, anytime, anywhere on any device in a usable format is very powerful." says Clint Greeson, a OneVision partner.  "The business is enabling its people with decision making tools that can differentiate and predicate a future of success."
Process Enablement with Technology
A good process is not enough.  In order to meet business transformation objectives, a process must be durable and agile.  Given modern and complex business operations, technology must bridge this gap with innovation.  Systems built with artificial intelligence have a leg up since they are designed to make smarter decisions leveraging available data.
For instance, organizations with heavy regulations or compliance standards must leverage process as a key part of their operations.  Exceptions to process can have serious consequences to safety, legal, or business reputation.  Technology can automate validation and adherence to critical processes.  It can also provide efficient ways to manage sales, financial and service delivery.
Business executives realize that today's business transformation initiatives will rely on IT's ability to lead significant change.  Furthermore, the change is not merely a technical challenge.  It represents a shift in organizational culture to adapt technology enabled processes.  With this realization, a company wanting to disrupt an industry, compete at a new level or experience progressive growth will be seeking the right technology talent.
Now more than ever, IT has can have a voice in the board room.  In fact, IT has an opportunity to influence a company's strategy and remain a relevant player as companies move into the next decade of business.
Business, IT and Digital Transformations are shaping the way businesses succeed.  At OneVision, we have noticed a shift in both IT and Business leaders toward a stronger alliance in the board room.  Technology inspired initiatives with modern ERP solutions are solving business problems and continuing to provide greater value for organizations across industries.
Case Study
Recently, our partners worked with a national Health Care provider struggling to improve sales and operational performance.  The organization was faced with market realities and were ready to drive a business transformation initiative.  We helped them examine their current infrastructure and processes, to design a path forward around:
Supply Chain
HCM and Payroll
Medicare Billing
Operational Dashboards
Results:
After standardizing ERP and providing visibility into the business with EPM dashboards, the company was able to achieve:
8% growth in sales revenue.
Improved employee on-boarding through HCM integration
YoY earnings per share improvement
OneVision partners are business transformation specialists.  Contact us to discuss the journey to build a vision for your business.