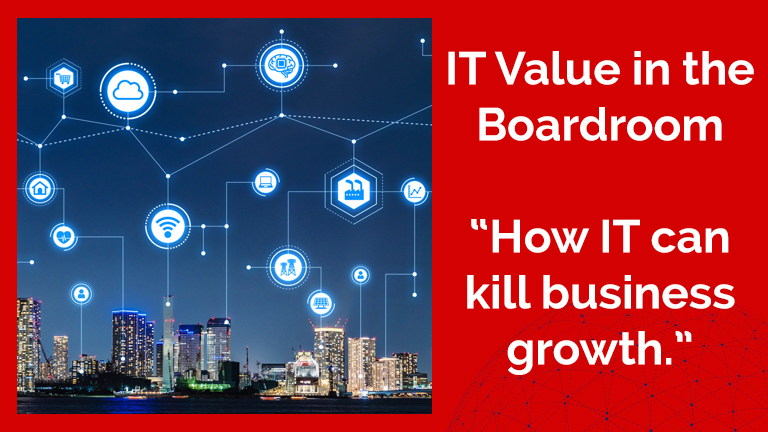 In a race to keep business relevant and optimized, legacy IT can impede business operations.  While IT has no shortage of marketing lingo, "IT Transformation" is not just a new buzz word for the industry. In fact, the lack of modernization of enterprise IT can hold back a high potential business and stunt growth.  IT Transformation presents an exciting opportunity to develop IT performance and calibrate the essentials in your current design and infrastructure.  The best IT leaders recognize this, and ensure they position this change with business needs and innovation.
As we continue our discussion of "IT Value in the boardroom", today we will examine IT Transformation, and begin with some fundamentals in the IT stack.  These core elements can be gamechangers in your business value journey.
IT Design and Vision
First things first, begin with a plan that considers current and future state of IT.  The biggest decisions around Information Technology are far beyond the bits and bytes of the industry.  The IT organizational structure, and future state of the business supported by technology, is a difficult, but necessary exercise.  Predict the organizational needs and challenges that will craft IT delivery value.  Think of company size, communication issues, operational challenges and how people will embrace the technology.  These forethoughts provide a roadmap to begin your planning and the journey ahead.
Infrastructure
Many infrastructure options exist for organizations today that accommodate the most demanding or simple of environments.  The important thing to remember is that your infrastructure should be tuned to your environment.  It must also be flexible enough to accommodate changes perceived over the next 3-5 years.
The infrastructure is an all-encompassing view of your ability to deliver end user IT services.  The business applications must be accessible, secure and reliable.  They should perform at an appropriate level to allow the business to provide the underlying services that support the organization.  Since decisions made on infrastructure are long lasting, choose wisely.  Be sure to understand where the business is heading and how fast the intent is to get there.   Just because the company size may not warrant a full-blown ERP today, it may require the advanced capability of a modern ERP tool to accelerate growth.  Consult with the business to review scenarios like this so decisions can be made with business objectives in mind.
Cloud
While a pure cloud environment is much less likely than a Hybrid architecture in today's Enterprise, it still offers substantial benefits.  A Hybrid approach will allow the business to choose which applications are important enough to keep on-premise.  It also keeps control with the business if the balance between on/off premise environments continues to shift based on changing needs.
Remember, cloud offers the ability to off-load support to a qualified vendor and can mean reallocation of personnel to critical business projects.  At the same time, companies needing to deploy capital on other areas that better support key business initiatives can leverage cloud as a viable option.  This deployment flexibility can also produce faster ROI.  For instance, many modern hosted ERP systems offer packaged configuration to get systems running fast.  This can make a huge difference for an aggressive business ready to move quickly.
Cybersecurity
Boardrooms who have not included the cybersecurity discussion as a fundamental on-going exercise are making a critical mistake.  The attacks are too frequent, and consequences can be dire.  While IT leaders are responsible to educate the business on the on-going threat, warnings of pending danger is not enough.  Savvy CIO's will need to monetize the discussion and demonstrate ROI.
Evaluate business critical applications where a cybersecurity impact is most substantial and create a picture of crippled operations that could result.  Set an expectation of the risk mitigation and recovery investments needed to ensure business continuity compared against loss revenue and reputation issues.  Provide examples for executives that can be described in layman's terms and align your recommended investments in cybersecurity to the ability to thwart the comparable attack.
Collaboration and Mobility
Today's business requires on-going collaboration to be successful.  Technology certainly provides a plethora of collaboration tools, but most do not hit the mark.  The results can be costly IT expenses without alignment to the organization goals.  Modern collaboration is often a set of tools that provide valuable data, allowing others to contribute to the information.
ERP systems, for example, are often at the center of critical business data.  Be sure systems like these are accessible to the business and provide the insight they need to collaborate and foster decisions.  Meanwhile, enable mobile technologies for deep, omnipresent and consistent collaboration.  Teams can be ready to interact and contribute to the business in any place, and at any time.  Simplified communications with unified tools save users and executives valuable time.
Systems and Application Development
When transforming an IT organization, a primary objective is to build and/or integrate new systems.  Off the shelf and custom applications both fall victim to potential positive and negative impacts to the IT design.  When businesses implement a large scale system, such as an ERP or other operational platform, decision criteria about the implementation are extremely important.
For instance, agility is a key factor with development.  The business landscape needs results quickly and agile can efficiently prioritize features and functionality needed by the business and provide them accordingly.  However, don't take corners at the risk of "technical debt".  Rapid development cycles pressured by business needs can risk "quick fixes" and result in rework (ie debt) needed to fix these problems at a later data.  Be flexible and fast, but not reckless in your approach.
Case Study
At OneVision, we work with organizational leaders to help create IT value.  Using technology in a thoughtful and impactful way builds synergy across departments with IT at the forefront.
As an example, a global engineering firm was struggling to find the right technology to serve as their ERP platform.  OneVision consultants worked with them to determine the most important business aspects of the selection.  Requirements such as:
Financials
HR-Payroll
Billing
Projects
Results:
After a rigorous selection and advisory process, the organization was able to:
Select a solution that met 90% of the requirements
Secure an affordable investment that provided cash to pursue other business initiatives.
OneVision will continue the IT Value in the Boardroom conversation in our next update to this series focused on "Business Transformation".